Skip to content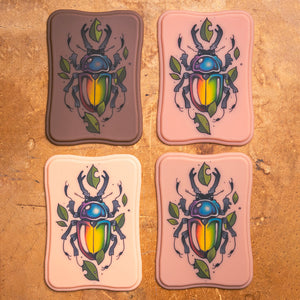 A Pound Of Flesh was birthed from tattoo artists looking for
a way to practice tattooing without subjecting friends and family to still-budding
talent. At the time, practice skin was still a new concept and most artists looking
to practice would just raid the kitchen for oranges and, forbid, a choice slice
of pig.
Once the formula was developed to closely mimic real skin,
we decided to shape it into limbs to give artists the chance to truly practice tattooing
a client. From arms and breasts to skulls and cutie dolls, we aim to give
artists a way to practice tattooing on a variety of shapes and sizes. Even experienced
artists enjoy tattooing our products as a new way to showcase their art in
their shop.
Sunday,Monday,Tuesday,Wednesday,Thursday,Friday,Saturday
January,February,March,April,May,June,July,August,September,October,November,December
Not enough items available. Only [max] left.
Add to Wishlist
Browse Wishlist
Remove Wishlist